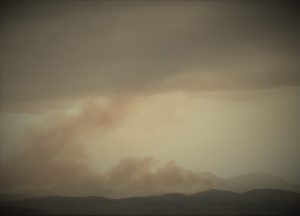 I've been dreading the hazards of summer. The lingering snowfalls of winter turned into a blustering, stormy spring that provided green landscapes through July. This verdant beauty allowed me to maintain a naive sense of optimism regarding what summer would hold. I held out hope that the heat and smoke of last summer was a rare occurrence, wishing that clear skies, warm temperatures and living greenery could persist until we reach the cooling and drying effects of fall. Most of all, I dreamed of never seeing the hazy discoloration of smoke obscure our perfect mountainous horizon. My idyllic summer fantasy wilted a bit after waking up coughing in the dark this month. Unfortunately, both the sun and my lungs had to fight through a blanket of smoke to start the morning.
The smoky haze in the air appeared as if it came from a gritty post-apocalyptic movie. While no futuristic vehicles and villains have accompanied this change to our landscape, it is not without its own dangers. Wildfires, grass and debris burning can cause a significant impact on our air quality. While fire is a valuable part of the life cycle of certain plants, some habitats may not be as able to cope with fire. The effect of fire can also be very widespread. While some of the smoke has come from nearby fires, some of the diminished air quality and visible smoke is attributable to fires raging in other regions. The sometimes-heated topics of water allocation, forestry management and land use regulation are outside of my area of expertise. However, I am highly familiar with the health consequences of fire season.
Some studies have confirmed the obvious, that wildfire smoke exposure increases respiratory illness and severity of respiratory symptoms. Others have even noted an association between smoke exposure and worsening mood. Some have made the startling observation that when it is smoky out, people may be more likely to die in general, not just from respiratory complaints. Further research is needed to determine who is particularly susceptible, what toxins or particulates are culpable for the worst consequences, and to determine what methods are the most effective at preventing and reversing the health hazards associated with smoke exposure. If such smoke exposure continues to become a regular part of our seasonal summer experience, both research and a practical plan to cope with such seasonal exposure is necessary.
For people with respiratory illnesses and sensitivities, a specific action plan tailored to their illness and treatment options should be developed with a physician. This is a time where having up to date prescriptions and appropriate dosing strategies for both daily and emergency medications could be lifesaving. Other parts of the plan can include reducing other exposures and evaluating what lifestyle and household modifications are necessary. Complementary strategies can include therapeutic nutrients, herbal medicines, acupuncture, and even dietary changes to better cope with the added strain of smoke exposure.
There are pharmaceutical as well as complementary strategies to manage respiratory illnesses and stay healthy during fire season.
Now is a great time to schedule a check-up with your physician and to develop a comprehensive and holistic wellness plan with Dr. Overland.